We Do It All, From Start to Finish!
We handle all aspects of the project from design through assembly and enclosure. We can work with your contractor or manage the project from the start. Timber frame construction works equally well as a stand-alone structure or accented onto conventionally framed buildings. Here's a quick look at the process…
DESIGN
All design work is done in-house with the assistance of a 3D program. Customers can do a virtual walk-through of their project to insure every detail is covered.
The ability to visualize the spaces created in 3D has been extremely helpful for both the customers and with communication with the design team.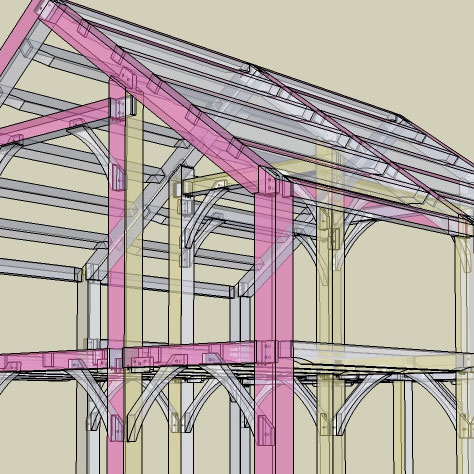 BUILD
Once the design work is finalized, shop drawings are generated and the work moves into the shop.
Our small team handles all aspects of the build from re-sawing timber and joinery to finishing, assembly, and enclosure. Our priority throughout is to produce a finished product as near perfect as possible. All joinery is test-fit in the shop prior to transport and assembly.
It is worth pointing out that all joinery is traditional mortise and tenon locked together with white oak pegs. The majority of timber connections require no steel fasteners.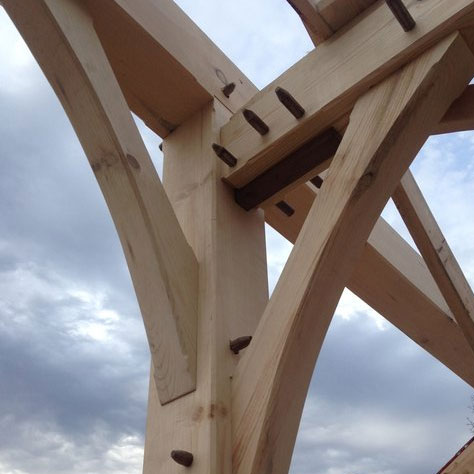 FINISHES
Typically the finishing process is completed in the shop prior to transport and install. We have developed several custom finishes to achieve a variety of color options for interior or exterior work. Examples of finishing options can be seen in the images below.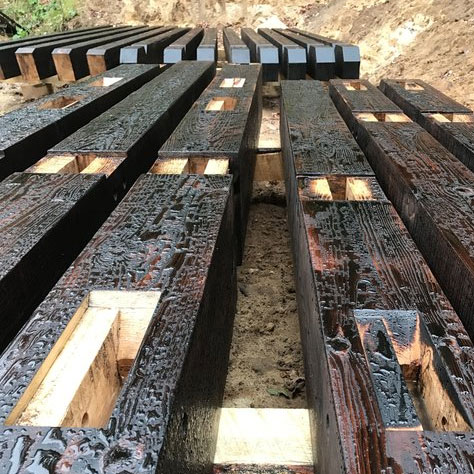 THE TIMBER
We prefer locally harvested eastern white pine for our frames. It is light, strong, stable, abundant, and a joy to work with a chisel. We contract with local loggers and sawmills for clear, straight pine cants (over-sized timbers). We allow these cants to air dry for a minimum of two years before we re-saw the timbers with our band-mill to exact dimensions. This has been found to be the best practice to ensure the timbers enter the shop straight, square, and consistent. The drying time also minimizes movement once the frame is erected.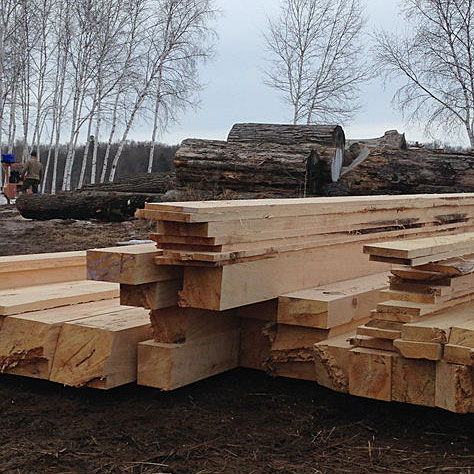 Here are some more examples of how we do what we do…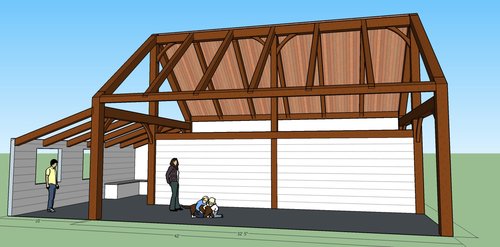 Here's a look at the 3D program used for project design.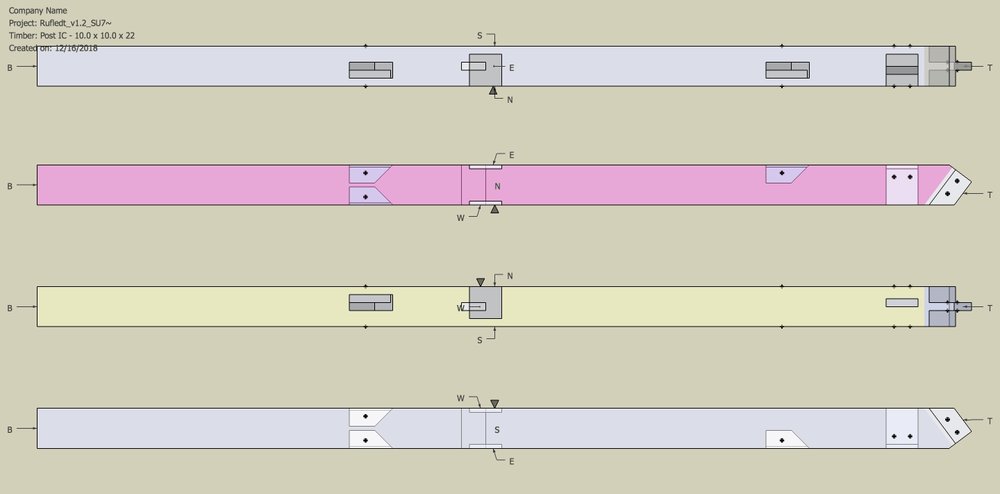 Shop drawings are generated from the 3D model, making timber layout simple and accurate.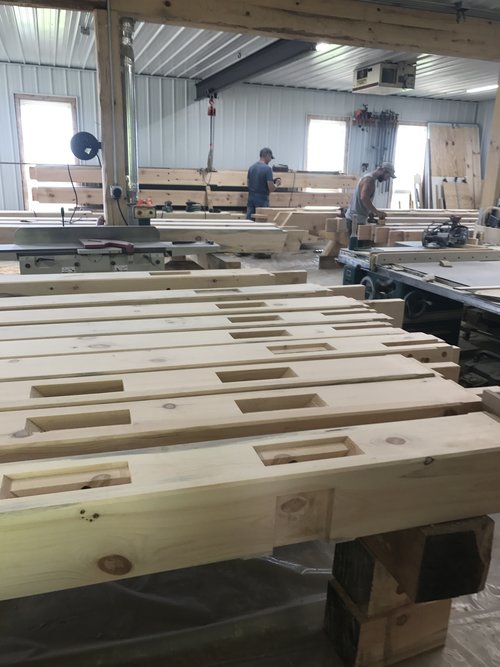 Final surface preparations before finishing. The timbers shown are planed and sanded white pine, the finish will be a two step process to achieve a weathered look.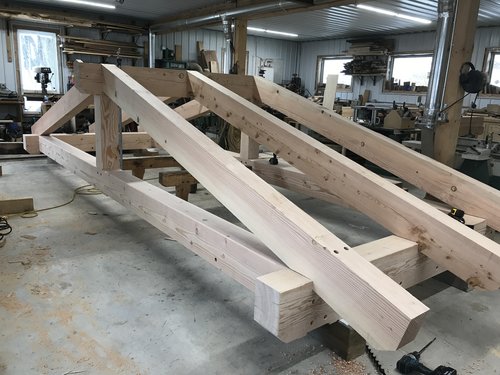 All critical joinery is test fit in the shop to insure the assembly on-site goes smoothly.
This is a 8'x20' covered entry for a commercial job in Hayward, WI.
The timber for this job is douglas fir.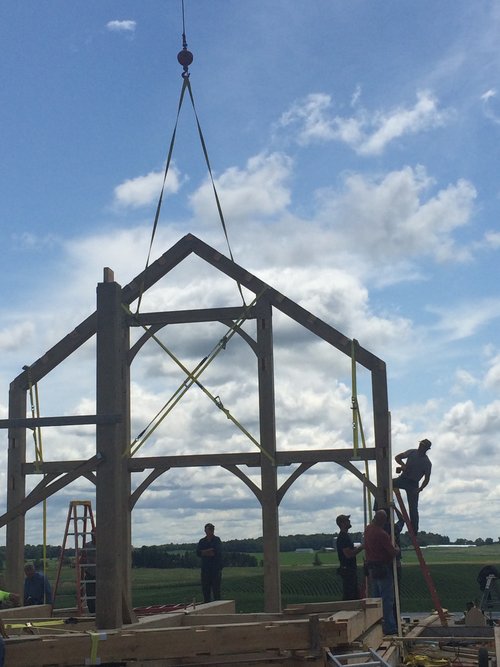 Raising day! After all the design and shop work, we get to see the structure come to life.
This frame is a 24'x24' with a loft. The picture shows one of the three bents in the frame.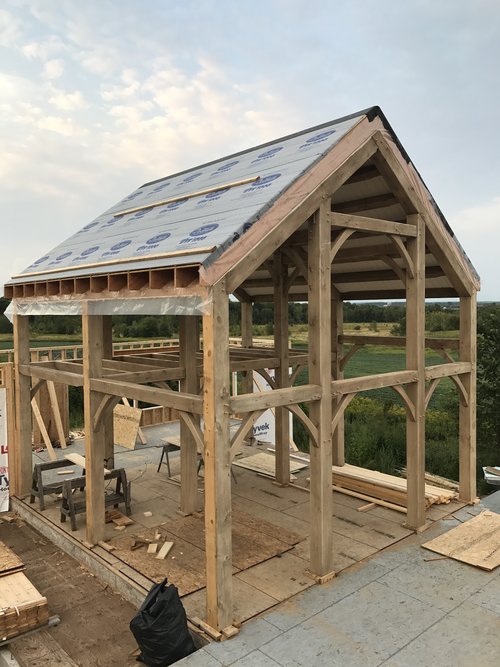 There are several options to enclose the timber frame once assembled. Here is an example of conventional framing applied over the frame, a dense-packed fiberglass insulation will be blown into the cavities from above.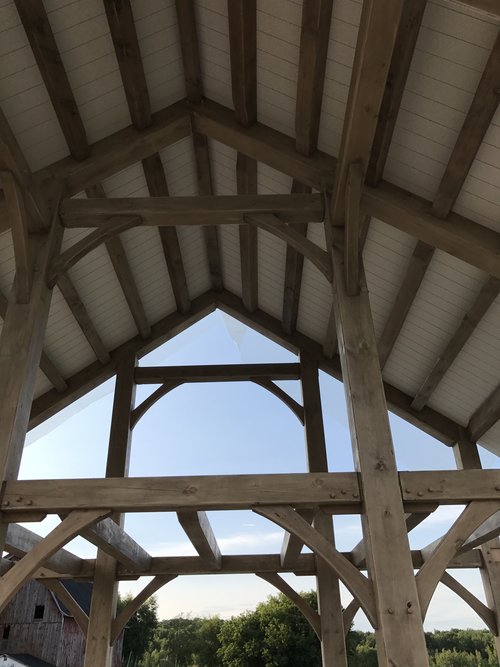 Here is an example of our weathered finish on white pine timbers with white nickel-gap ceiling boards.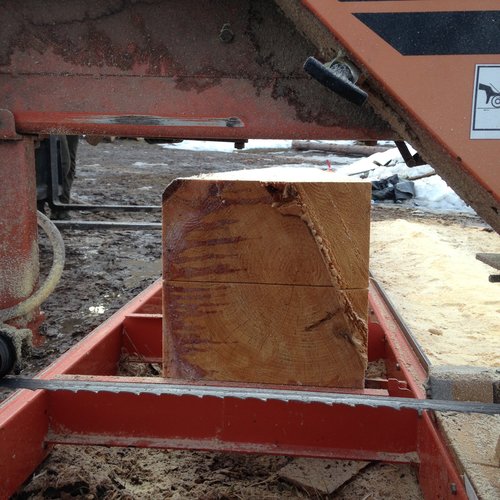 Our band saw mill used to cut rough timbers to final dimensions.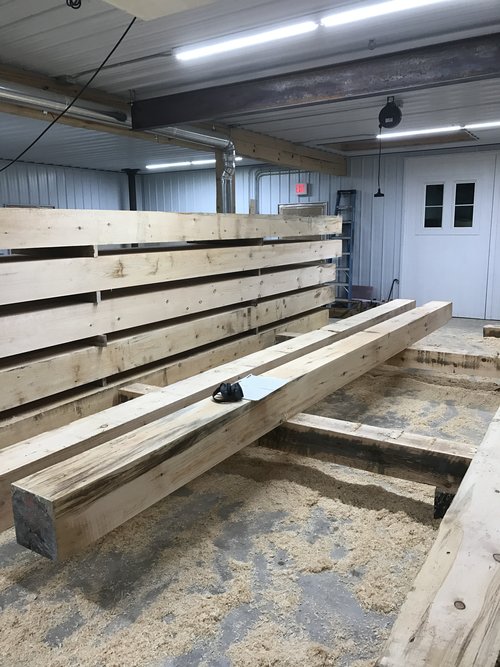 Here is a picture of the timbers after they come off the band mill. These will be planed before layout and joinery begins.
START THE CONVERSATION
We'd love to discuss your project! Call us today at (715) 933-0050.